Selling furniture without touching
Habitania engaged Whitetower to work on their digital strategy to get customers excited about purchasing furniture in store and online. They wanted to build a community that they could tap into and engage with to cross sell, up sell and grow their business through.
Our Approach
Making digital marketing work for Brick & Mortar stores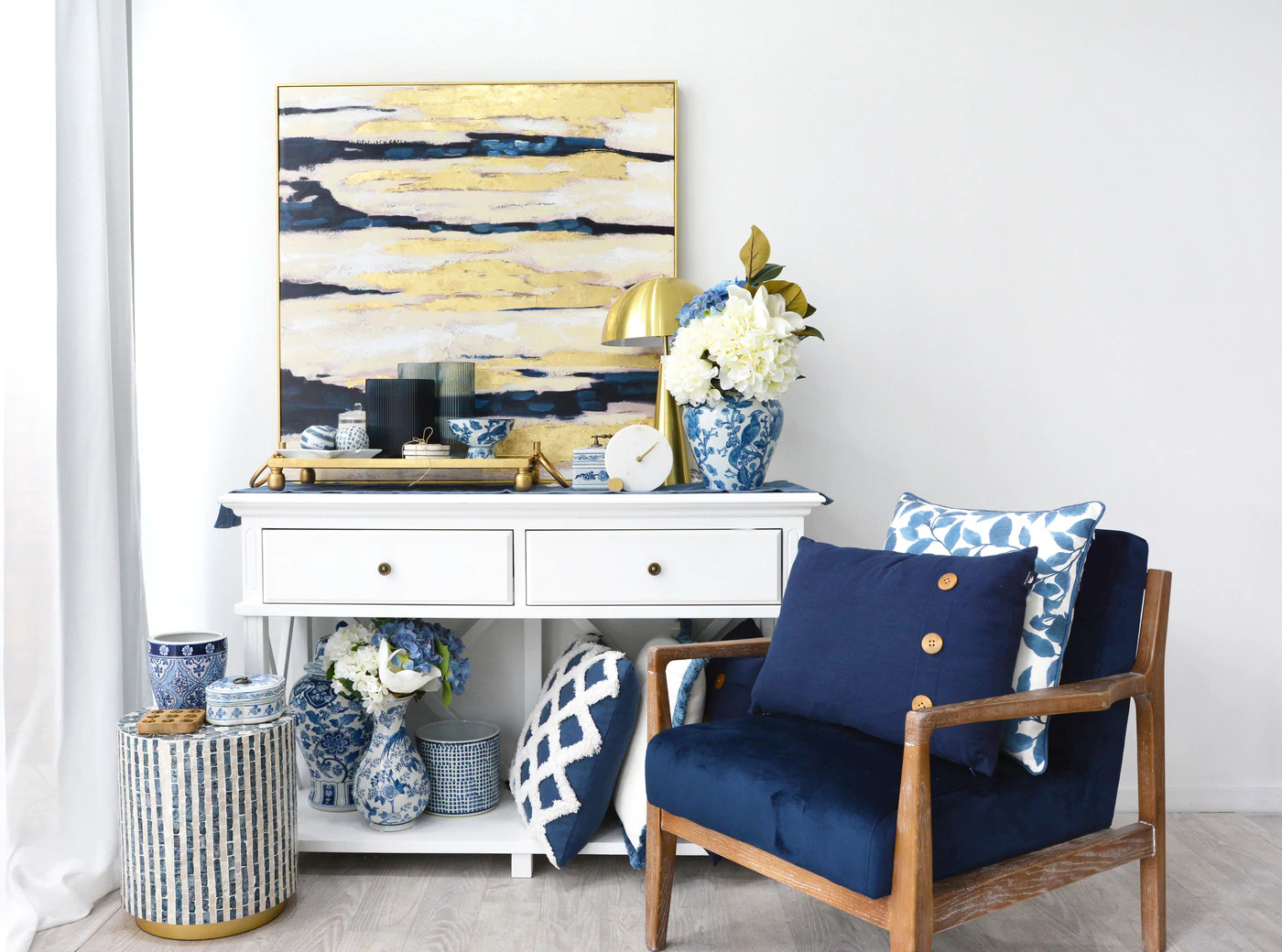 Additional Instagram Followers
Our experts needed to devise a strategy that could help achieve Habitania's goals while still using their under performing and unfriendly website while maintaining existing levels of sales and engagement they have came to see from their best performing stores.
Since there was little to no community nor digital experience provided by Habitania, Whitetower saw this as an opportunity to create engaging content, raise awareness and build a strategy to build up their audience and build a clearer picture of who their customers and potential customers are.
Whitetower focused on 4 key strategies that built the uplift for Habitania:
Deliver lead magnets and competitions to understand who their customers are
Utilised influencers such as famous interior architects to provide master classes to inspire customers and drive foot traffic and sales for their stores
Created Shopping PPC ads to drive traffic and online sales
Used traditional media in combination with digital to track store based promotions
Getting people to shop using Shopify.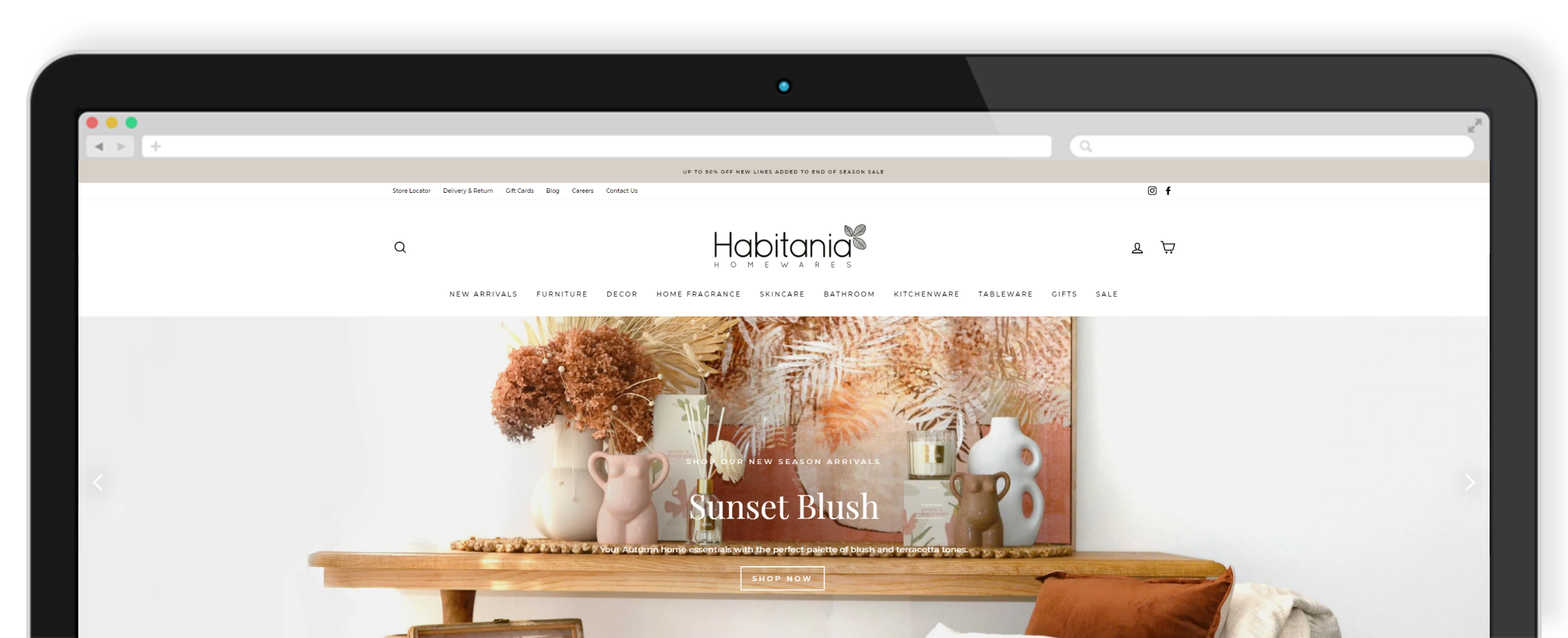 Since Habitania sources majority of their inventory from other businesses and buying them at bulk and at wholesale prices, it was notably obvious that their margins were small and using any large scale PPC campaigns would completely eat up into their profits.
Based on the Google Analytics and Shopify data provided to Whitetower, our experts saw an average of 2000+ users visiting the website on a daily basis. It was recommended by our team to improve the Habitania Shopify store, as we believed it was key to Habitania generating low-overhead based sales that would help them grow and maximise their profits.
The newly designed website that Whitetower created, focused on selling smaller homewares and delivered a lifestyle-type magazine that saw:
29% lowered bounce rates
40 second longer time on site
400% increase in monthly sales
Averaged an increase of $50 on per cart checkout
Targeting customers & upselling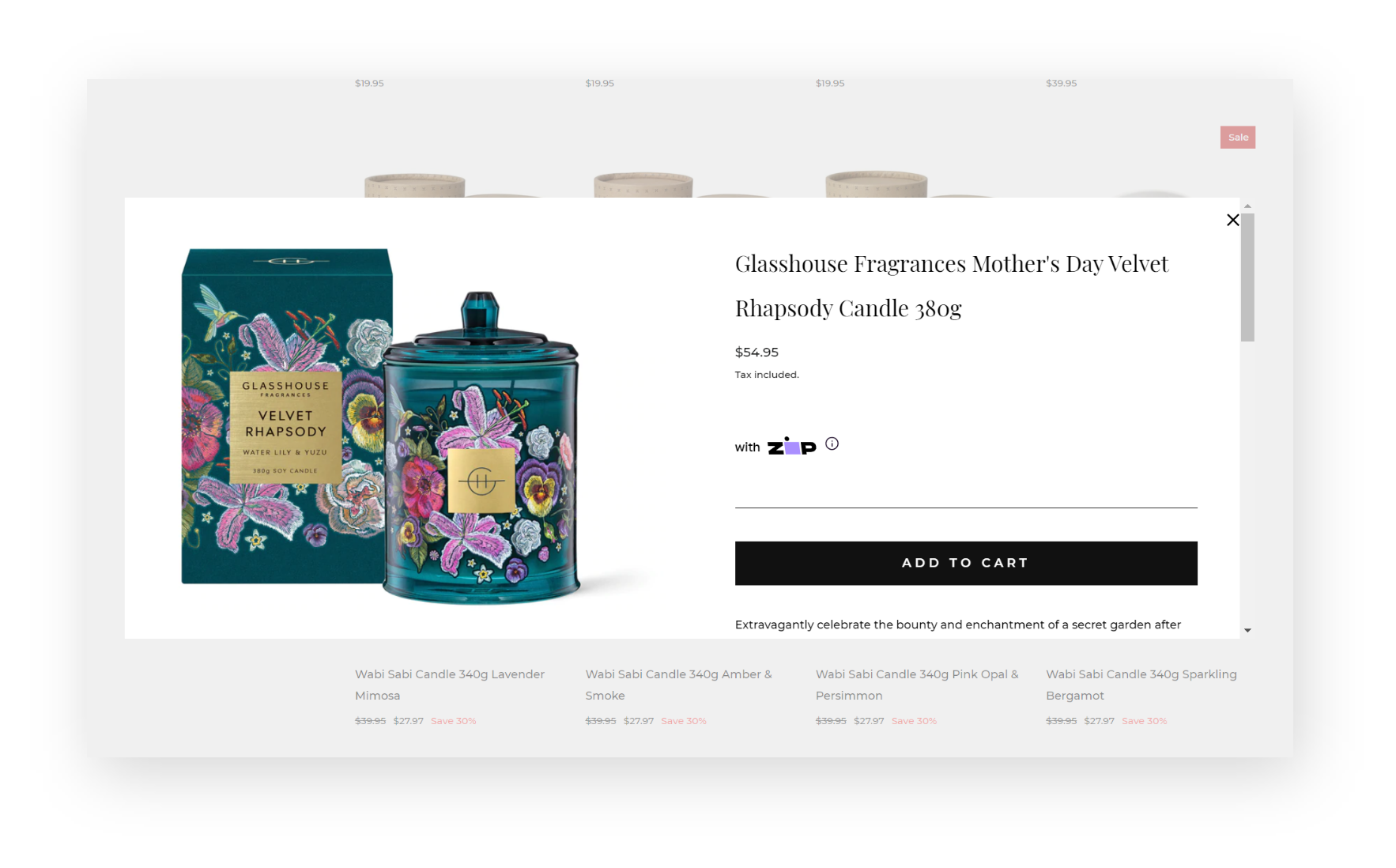 Increase in Repeat Customers
By developing look books and inspirational tips into the Shopify website, this allowed us to uniquely market to public through leverage brand equity from other brands, influencers and experts in the field.
Our campaign used a combination of the Google Display Network (Youtube & mRecs) as well as Google Shopping feeds and Facebook/Instagram remarketing. Through delivering a multi-touch approach from all parts of the funnel and leading them into a UX-oriented and improved Shopify store, our experts were able to expand our reach and target the correct people to purchase online.
Through the course of the next few months, based off our learnings, our strategy consisted of:
Using branded keywords to capitalise on under bided terms to improve RoAS (return on adspend)
Identified markets and low-barrier key products (eg candles and diffusers) to attract customers into our funnel
Used a cost-cap strategy to find larger and cheaper volumes of traffic to sell to for quick learnings and algorithm improvements on GDN and Facebook.
The Results
Physical & Digital Expansion
By building up their ability to talk to their potential and existing customers via emails, SMS and social – we were able to understand what truly drove customers to stores, what they wanted to buy and what they loved see and hearing from us about.
Through painting this picture, we achieved amazing results and helped Habitania understand their customer, figure out their average sale costs and volume which ultimately lead to higher gross profit margins and an expansion of over 5 new stores up and down the east coast of Australia.
Contact Us
Our objective is straightforward: we are dedicated to assisting businesses to thrive, and we offer measurable results that influence the bottom line.
"Whitetower provides more than just a solution. Its consultants provides our organisation with strategic thinking for all our digital challenges, based on our own particular needs. The team works hand-in-hand with our own internal team, and we can always rely on them to offer insights that are relevant when we need them."

Andrew Duckmanton

General Manager of Digital Acquisitions, Lottoland
Enquire Now
Start a conversation with us today - we'd love to hear about your next project!