Appear the right way to the right audience.
We invest time in learning about your company's brand and how customers engage with it; as a result, we can put ourselves in the shoes of your customers and determine how they would like your goods or services to be presented to them. Whitetower is a leading Google Ads agency because we focus on all aspects of your business, industry, and competition and ensure we understand how your customers think and act.
As every team member has earned their Google AdWords specialist certification, we can deliver unique brand-based and data-driven behaviour-based PPC ads with RoAS as the #1 priority.
At the end of the day, it's not hard to get people to click on your ads. Make sure that each click comes from a genuine prospect or potential customer (and not one of your competitors) – trust our Google Ads specialists at Whitetower and stay ahead of the competition.
Our Google Adwords Services
Boost website visibility, increase leads, traffic and sales, and maximise your company's online potential with Google Ads Management strategies. Google is the first place that 9 out of 10 Australians look for products and services. The difficulty is that your competitors are aware of this, and Google Ads can quickly become extremely expensive. We assist businesses in making more money with Google Ads by using clever online ads and innovative conversion rate optimisation.
Funnel Development
You might have heard the word "marketing funnel" before, if you haven't – then it's exactly what needs to be built for your campaign. For any successful marketing campaign, a funnel needs to be designed and developed to drive customers to and convert. Our experts will support the creation of this with your team, or through using our internal development team.
Campaign Audits
You might be familiar with Google Adwords, and you might already have an existing campaign – but is it doing all it can? Our team of Google Ads Specialists will work their magic to improve your search rankings, raise your quality scores, and lower your bid rates.
Goal Tracking
Our team of Google Ads Specialists will work their magic to improve your search rankings, raise your quality scores, and lower your bid rates. We always look for ways to increase conversion rates and bring new and returning visitors to your site – all setup against your business goals and objectives!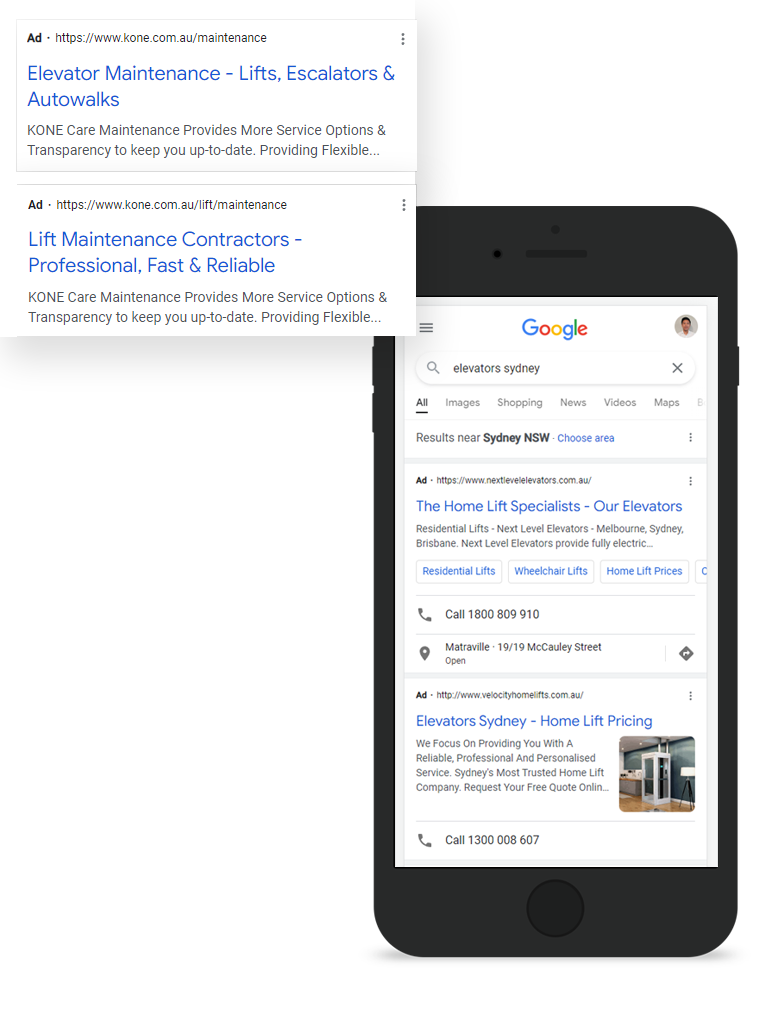 Get Seen Online with Google Ads, Google Marketing, and Google Ads Management. Turn your Google Ads clicks into customers.
Google AdWords is a service that takes filtered keywords out of people's search phrases and shows relevant ads as the top results that people see. We can help you make your brand show up as one of those ads.
We will set up and target the right niche keywords and locate popular searches specifically for your brand – ensuring your ads don't just appear, but that they appear for the right people. By mining Google AdWords data, our team can show you the list of keywords that are the highest converting in your industry. You can capitalise on this knowledge to keep your ads giving you the highest returns.
Join our long list of success stories
The right keywords makes all the difference, from driving engagement using long tail keywords to targeting branded keywords – the right campaign varies between client to client.
Join our list of happy clients who have engaged our services!





Contact Us
Our objective is straightforward: we are dedicated to assisting businesses to thrive, and we offer measurable results that influence the bottom line.
"Whitetower provides more than just a solution. Its consultants provides our organisation with strategic thinking for all our digital challenges, based on our own particular needs. The team works hand-in-hand with our own internal team, and we can always rely on them to offer insights that are relevant when we need them."

Andrew Duckmanton

General Manager of Digital Acquisitions, Lottoland
Enquire Now
Start a conversation with us today - we'd love to hear about your next project!